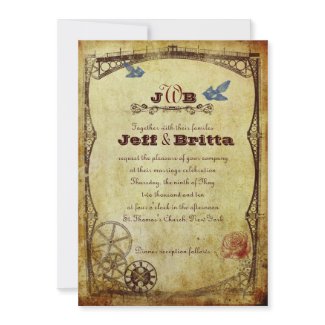 What is a unique, unusual, offbeat or even funky wedding? It's one that reflects the loves and lives of the bride and groom. They aren't held to strict tradition or society's  idea of what a wedding should or should not be.
Today's brides are much more individual, unique. They want their weddings to be personal, a celebration of their life and love.  We think that is a perfect recipe for a perfect wedding.
It can be a bit overwhelming in the beginning. Planning a wedding involves so many decisions being made with the type, style or theme being one of the first.
To help come up with your unique wedding theme or style, consider some of the ideas below:
A Place, City or Country — the place you met, or will honeymoon, a dream vacation (Italy, France, Caribbean,), etc…
Something You are Passionate About — Green living, a sport or sports team, an activity or hobby, a collection or dream collection, etc…
A Time Period — Medieval, Victorian, Wild West, the Roaring 20's, 1940's Americana, Old Hollywood, 1960's, 70's, 80's, etc…
Ethnicity — Embrace and celebrate your heritage, your roots
Occupation or Career — Library, school, teacher, attorney, doctor, accountant, etc… Elements and small touches could be added to reflect your occupation.
A Style or Lifestyle — Steampunk, vintage,  Gothic, retro, motorcycle enthusiasts, etc…
Movie, Play or Music — A spin of something you are passionate about. "Breakfast at Tiffany's", Broadway or a Broadway play, Jazz, Classical or Rock and Roll, etc…
A Group or Organization — A branch of the military, Boy/Girl Scouts, animal rescue, Relay for Life, etc…
Your wedding doesn't have to be an all-out, in your face theme. (But it can be.) Just some elements here and there will make it personal and different. The easiest way to have a unique wedding is to have it reflect you and your fiance. You are individuals and unique in your own right. Translate this to your wedding and guests will be talking about it for years because it was personal, funky, offbeat and, of course — unique.
Image Credit: Victorian Steampunk Wedding Invites by poptasticbride