If a wedding reception tea party makes sense for you, the way to get started is to pick a theme. Everything you do will then fall around your theme, from the decorations to the food choices. Your theme can be as fun and interesting as your own personality and that of your groom.
Magical Theme Ideas
Because my daughter and her future hubby want to have pinball machines available at their reception, they are thinking about a theme called Pinball Wizard for their tea party reception. It's just one of the ideas that they are tossing around, but we have talked about using wizard hats and magic wands for table centerpieces. The ceiling filled with glittering lights to imitate a night sky.
With a theme around magic some way, we have been talking about menu ideas, too. With a wedding reception tea party, we want the foods to be appropriate. That means no sit-down dinner for this reception. Most tea party foods tend to be finger foods. Fun cookie cutter shapes like stars, circles and hearts are in the plans.
More Unusual Wedding Reception Tea Party Themes
Your own theme may lean more towards a Western theme, maybe even a carnival theme. You can also incorporate a steampunk theme for your wedding reception tea party. Literally, the sky is the limit for you.
If you would love to have a truly vintage-style formal tea party, you can find lots of information about how to plan it at Formal Afternoon Tea. It also includes recipes for some of the traditional high tea foods.
Having a dessert-style wedding reception tea party can also bring themes. Sugar-glazed, sweets for my sweetie, and honey sweet are possible ideas for your theme. Of course, you will want a sweets-only buffet for the guests.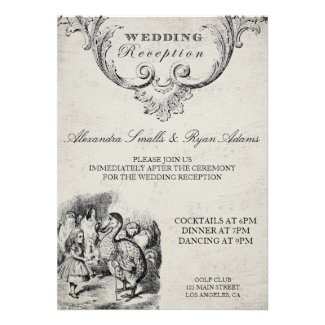 Vintage Alice in Wonderland Wedding Reception Card
by
antiquechandelier
Create unique
customized invitations
on zazzle.
Accommodating Your Guests
Going crazy with your theme may be appropriate for you and your groom, but put a little thought into your guests. Will Great Aunt Bertha be in attendance? Can you accommodate elderly Gramma Smith in her wheelchair? Toning things down just a touch to include those special family members may be a better option for you. Yes, it's your special day and you want it to be just right, but make sure it's special and memorable for you and your guests.
Match Your Theme to Your Personality
If you and your groom have special loves, try matching your tea party reception to one of those. Maybe you both are avid snow skiing fans. Can't you picture a delightful setting like a ski lodge with a large fireplace and plenty of fake snow around the room?
Using your own personality and those things that you both love will create an atmosphere that will you will both enjoy and remember for many years to come.