Where can you find unique wedding invitations that won't break the bank? Some companies that make invitations have a line per year, quarter or season. They use retail stores as their outlets so when you search, you see the same invitations time and time again.
Others are unique, maybe even handmade but they have a very expensive price to go along with it. Traditional printers can also have many miscellaneous charges or options that go along with it. So even if you find one you like and can afford, by the time you add the options you want, you've driven the price right back up to un-affordable.
You should be able to find unique designs at affordable prices for your wedding day and you can…
Print on Demand Designs
Zazzle is a Print on Demand company. They are really becoming popular for invitations and not only for weddings — showers, rehearsal dinners, birthday parties, graduations and more are using them for a lot of reasons. Here are my top 5 reasons:
No Set-Up Fees
Any quantity available — even just one
No extra charges for personalization, customization or fonts
Fast Shipping
100% Satisfaction or you return it for your money back
 Thousands of Designers and Designs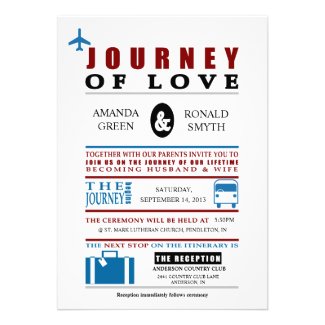 Vintage Travel Themed Wedding Personalized Invitation by DecoratingforEvents
The Zazzle marketplace is full of everyday people as well as artist and designers that share their creations with the world. The designers upload and post their creations and Zazzle does the printing for them. Simple and a win-win situation!
Also, most of the designers on Zazzle are more than happy to work with you to make one of their designs truly unique to you by changing colors, photos, styles or whatever you want.
I, myself, have some invitations for sale at Zazzle and have worked with brides/grooms to make them exactly what they envision. One of my most popular designs is a Vintage Travel theme design. (Sample pictured right.) I have made it over a few times for different brides that requested certain changes.
It was a lot of fun to read (in emails) how excited they were with the finished product!
Be Your Own Designer
If you have a knack for design or a family member or friend does, you can use Zazzle to design your own, truly unique invitation as well. The possibilities are endless! Design your own wedding invitations at Zazzle.
I have personally ordered Christmas cards and graduation invitations from Zazzle and been thrilled with the finished product. I can recommend because I have been a customer!
Try them out. Search for a wedding invitation that goes along with your theme. Customize it and purchase just one so you can see the quality product they produce. I know you will be as happy as I have been. You can't go wrong with a 100% satisfaction promise!
Here are a few I really like and consider to be rather unique. You can make changes to them too, through customization or contacting the seller. Either way, you'll get what you want for an affordable price!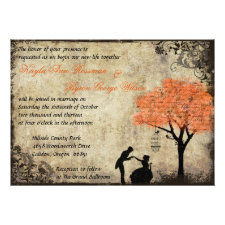 The Proposal Vintage Wedding Invitation in Orange by DaisyLane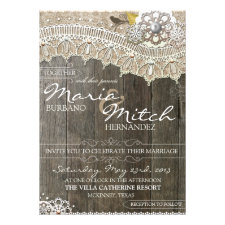 Rustic Wood & Lace Floral Wedding Invitation by oddlotpaperie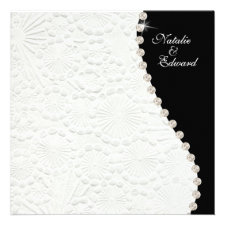 Engagement Black and White Vintage Pattern Invite by Pip_Gerard
Don't Forget the Extras
Save the Dates, thank you cards, reception enclosures, RSVP's and more are also available. Most designers have complementary stationery to their main invitation. Choose a design that is available in all the pieces you need. Or, contact the seller to see if he/she will make the additional pieces you need before you purchase.
Zazzle really is a great place to find thousands of affordable invitations that you can customize to make them uniquely yours. What are you waiting for? Design your own Visit Zazzle right now!