One of the first decisions a bride and groom make is what wedding colors they will use.  So many other decisions will be based, at least partially, on the color scheme that it needs to be decided upfront.
Unique brides want something a bit more out of the ordinary — not the pink and white or blue and white that is so prevalent in the with weddings. So, what are some edgy color combinations that will do justice to a unique wedding and bride? Let's take a look at some invitations that could set the tone for your unique wedding color combination:
Edgy, Unique Color Combinations
Red and Aqua Wedding Invitations –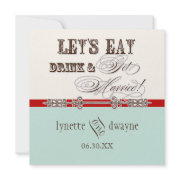 Eat, Drink n Get Married Bridal Wedding Invitation by AudreyJeanne

Aqua and White Damask with Red Faux Ribbon Invites by NiteOwlStudio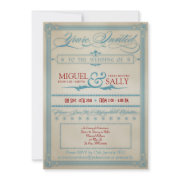 Vintage Red White & Blue Wedding Invitation by foreverwedding
Blue and Orange Wedding Invitations –

Orange and Teal Floral Swirls Wedding Invitation by TheBrideShop

Orange and Blue Beaded Wedding Invitation by TheBrideShop

Modern City Wedding Invitations Orange And Blue by TDSwhite_Invitations
Purple and Red Wedding Invitations –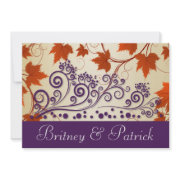 Red Taupe Purple Fall Leaves Wedding Invitations by natureprints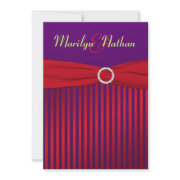 Purple and Red Stripes with Green Wedding Invite by NiteOwlStudio

ivory and red elegant wedding Invitations by
blessedwedding
Blue and Green Wedding Invitations –

Love Bird & Paper Lanterns Custom Invites by amykaren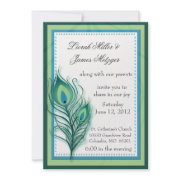 Peacock inspired Wedding Invitation by perfectwedding

Dragonfly Swirls Modern Floral Invite by AudreyJeanne
From these examples you can see, there are tons of combinations that are beautiful but not necessarily mainstream — a bit more edgy and unique. All these designs are available at Zazzle.com. They are a wonderful alternative to the traditional printers. There are no minimums or set-up fees and everything is customizable. They even have different grades of paper you can chose from. Take a look and remember — edgy and unique are good!