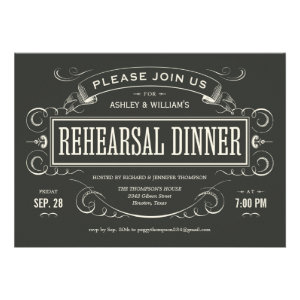 Unique Vintage Rehearsal Dinner Invitations by UniqueInvites
Unique weddings take a lot of work. Sometimes, you become so focused on the wedding and reception, other things slip through the cracks like rehearsal dinners.
Rehearsal dinners traditionally are a gathering of the wedding party with their significant others, immediate family and close friends and can even include out of town guests. It's usually a fun, more casual event leading up to the wedding and reception. Through the years, I was honored to host a lot of rehearsal dinners at my facility. My favorites were themed rehearsal dinners.
One thing I truly believed in was NOT trying to duplicate the planned reception at the rehearsal dinner. It should be completely different in theme and even formality. It's an event that should keep things low key [no stress] so the bride and groom can enjoy the camaraderie with their family and close friends. Nerves are always on edge before a wedding so a relaxing get together with key players is a great way to keep nerves in check.
Of my favorite themed rehearsal dinners over the years — 3 really stand out. They were so much fun, no one wanted the evening to end. So, here are my 2 picks for best themed rehearsal dinners (though any theme can be fun):
Italian Sidewalk Cafe Theme – This was a great rehearsal dinner. We made a sprawling buffet filled with Italian foods like different pastas and sauces, meatballs, flat bread pizza and lots of Italian breads. The buffet table was covered in black cloths and skirting and then we added red and white gingham fabric swags to the front of the "V" shaped buffet table. At the point of the "V", we had a "Leaning Tower of Pisa" as the centerpieces. Red geraniums were stuck in and around the buffet offerings.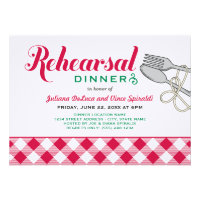 Rehearsal Dinner Invitation | Italian Food by Plush_Paper
For the table centerpieces, we rounded up empty wine bottles and stuck drippy candles in them and named each table after a city in Italy. The dessert table was set up on a small, black, wrought iron cafe table with 2 chairs. We used cake stands as risers for the desserts – tiramisu, Italian creme cake and assorted cookies.
During dinner, we had Italian music and a bit of Dean Martin playing low in the background. Almost every single guests stopped me to tell me how great the whole effect was and that they had thoroughly enjoyed their evening. That's the best!
Tropical Theme – I love a tropical theme and the couple were going to the Caribbean for their honeymoon so the parents thought a taste of the honeymoon prior to the wedding would be fun! We held it outside (summer wedding) and used white table clothes as a base for the guest tables and buffet tables. On top of the white, we used assorted bright cloth overlays (royal blue, lime, hot pink, sunny yellow).
For centerpieces, I made palm trees out of dyed ostrich feathers and tall (20 inches), thin vases. The centerpiece of the buffet was a palm tree fruit, veggie and cheese display. The rest of the menu was almost like heavy hors d' oeurves and included: Caribbean jerked beef and seafood salad with assorted, small rolls and breads for making sandwiches, pot stickers, shrimp and cocktail sauce, bbq smokies, assorted crackers, steamed vegetables and pasta salad.
  For the dessert table, the grooms parents had a tropical themed small layer cake as the centerpiece and we added bite sized and individual sweets. We played "island music" low in the background and greeted the guests at the entrance with leis. It was like we were all in the tropics for that evening. A lot of fun, for sure!
No matter who is hosting the rehearsal dinner…
keep these few things in mind as you plan it:
A rehearsal dinner can be the calm before the storm. It should be fun, festive and relaxing for the everyone.
Don't make the rehearsal dinner a miniature version of the reception. I suggest  not using the wedding colors for the event either. It should be an event in its own right.
Let the guests know what the theme is for the dinner through custom invitations. They will start looking forward to it right away!
Don't have a rigid schedule or itinerary. The reception already has a lot of "have-to's". The rehearsal dinner should be about togetherness, celebration and camaraderie. Go with the flow!