One aspect of a wedding that I always got tons of questions about from brides was favors. Do we need them? Are they affordable? Do guests really take them home? Let's delve a little deeper into the "to favor or not to favor" question.
Do we need favors?
The answer to that is the standard Psychologist answer: "What do you think?" or "How do you feel about this?" The bottom line is it is up to you. Some people think wining and dining your guests at the reception is enough — they don't need favors. On the other end of the spectrum, some brides feel like a favor is a personal "thank you" to the guests for choosing to celebrate their special day with them and would not go without them.
Are favors affordable?
That's a loaded question. Affordable to you and me, may be expensive to someone else. If you have room in your budget for up to a couple of bucks per person, then, yes, they are affordable. If your budget is overtaxed already, you may want to rethink favors.
Do guests really take favors home?
That depends on what you choose are your favor. I have found hordes of cute little wedding bells and little containers of mass produced, flavorless candy left on tables after a reception ends. Believe it or not, personalized wedding favors are the ones guests are least likely to take home. What are they going to do with a mini flip flop with your names and wedding date on it. If  they take it home it will end up in a drawer or eventually, in the trash.
However, if you put some thought into what you are giving and try to be practical (something people will use or actually eat) little details like well thought out favors that can take your wedding up a notch from expected to unique!
Guidelines for Practical, Unique Wedding Favors
It's hard to be unique with wedding favors. If a favor idea has been thought of, somebody makes it. You just need to sift through all the favors on the market and find something that hits one of two of these criterion for unique:
Reinforces your theme and/or color scheme
Practical items that will be useful once your guests go home
Represents your personalities, passions, causes or hobbies
A consumable item that tastes good
Examples of Practical, Unique Wedding Favors
There are a lot of different directions you can go when choosing a favor. Firstly, if you want to personalize your favors, consider a gift tag, personalized ribbon or note to go with your favor. The favor itself will be better received if it isn't boldly blazoned with your names and date.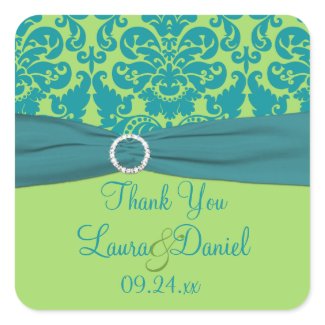 Apple Green and Turquoise Wedding Favor Sticker by NightOwlStudio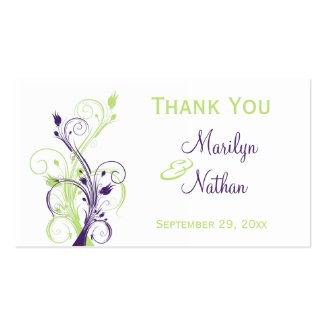 Purple Green White Floral Wedding Favor Tag
by NightOwlStudio


Personalized Ribbon (Continuous Double Face Satin 50 yard Roll)


Personalized Ribbon (Double Face Satin Pre-Cut 14″ lengths)
Next, look at what's available that fits the criterion you chose above. It could be a practical item that fits your theme or a consumable item decorated in your chosen colors. It could be a donation made in all your guests name's to a non-profit organization that represents a cause or passion of yours like  Relay for Life or the BuckHawk Center Animal Rescue.
Below are some suggestions that I have found to be more practical and unique. Hope you find something that will express your gratitude to your guests and reflect your theme, colors or passions! Good Luck!
Practical Unique Wedding Favors
I, personally, like photo clips as favors. They can double as place card holders at the table or you can clip your thank you note to your guests on it. These are small and most people can find a shelf, table or desk that they would display it on with photos or notes long after the wedding is over -- making it useful.

For edible items, make them yourself with family and friends helping or stick to a local bakery. Those cookies, candies and treats that are pre-packaged and sold online have almost no taste and million preservatives and chemicals trying to keep them fresh.

Other useful items could include bottle openers, bottle stoppers, candle or candle holder, picture frames, bookmarks and kitchen utensils. Just click the images for more information.